Vellam Song Lyrics in Malayalam – is an Indian Malayalam drama film and directed by Prajesh Sen. The film released under the Friendly productions company on  27 January 2021 and produced by Josekutty Madathil, Yedu Krishna, Ranjith Manambrakkat. The main role and leading actor is Jayasurya. Other stars of the Malayalam movie Vellam by Samyuktha Menon and Sreelakshi. The Vellam song lyrics in Malayalam written by BK Harinarayanan and the song music composed by Bijipal.
Vellam Song Lyrics in Malayalam Jayasurya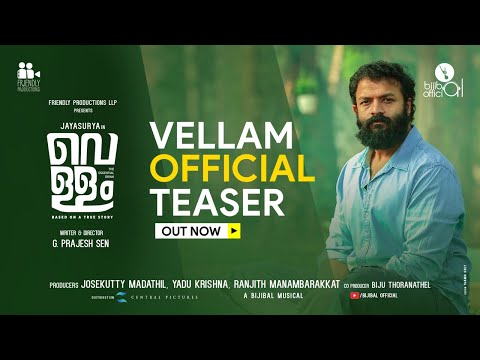 Movie: Vellam
Director: Prajesh Sen
Producer(s): Josekutty Madathil, Yedu Krishna, Ranjith Manambrakkat.
Lyrics writer(s): BK Harinarayanan, Nidheesh Nadery, Fouziya Aboobaker
Music: Bijibal
Banner: Friendly ProductionsStarring: Jayasurya, Samyuktha Menon
1. Oru Kuri Kandu Naam song Lyrics Viswanathan – Vellam Song Lyrics
"Vellam" – The essential drink' Malayalam movie
The debutant director Prajesh Sen celebrated his screenplay inspired by the real story of an alcoholic person. Jayasurya is the leading front actor who does his role well upon the character. He had proved the artistic skill of an actor through the Malayalam movies like Su Su Sudhi Vathmeekam, Captain, Njan Marykutty, Beautiful, etc.

Depicting an alcoholic is nothing new in mallu movies. Movies like Mohanlal's Spirit, Prithviraj's character Joy, Lal Jose's 'Neena' associated with an alcoholic character. Jayasurya performs a completely different and serious character in Vellam movie.
This movie gives a good message to society. Alcoholism is like a big disease, all it needs is good support, care and treatment for the patient.
Vellum starring Jayasurya's first movie released in theaters after CO – VID. He acted in his movie "Captain". The "Captain" is one of Jayasurya's best films. We can see all his talents through this film.
Vellam Teaser